Perinatal/Infant Health Action Alerts
Sleep-related death is the leading cause of death for infants from one month to one year.
Remember the ABCs of Safe Sleep: Alone, on the Back, and in a Crib
Placing babies on their backs is the number one way to reduce the risk of SIDS.
Place your baby in a safety-approved crib with a firm mattress and well-fitting sheets.
Cribs should be free from toys, soft bedding, blankets and pillows.
The safest place for your baby to sleep is in the room with you, but not in your bed.
Think about using a clean, dry pacifier when placing your baby down to sleep.
Consider using a wearable blanket or other sleeper instead of a blanket to avoid the risk of overheating. Keep the room at a temperature that is comfortable for a lightly clothed adult.
Talk about safe sleep practices with everyone who cares for your baby.
Kansas has made significant improvements in safe sleep for infants, but recent data shows two key priorities that most need improvement.
While health care providers are doing a great job advising mothers on the basic ABCs of safe sleep, only 55.0% of mothers reported being advised by a health care worker to place the baby's crib or bed in the mother's room. Health care workers can improve safe sleep conversations by sharing the message, "Same room, separate bed".
Many Kansas infants still do not sleep in a clutter-free crib. Almost one in two (45.8%) of infants sleep with a blanket.
Connect with training! We can help you find a certified Safe Sleep Instructor (SSI) near you. Request a training or become a safe sleep instructor. Certified SSIs are located across the state to provide safe sleep trainings.

The 2020 Safe Sleep Instructor training is scheduled for September 24-25 in Wichita.
More Information
Safe Sleep Flyer (SSIs)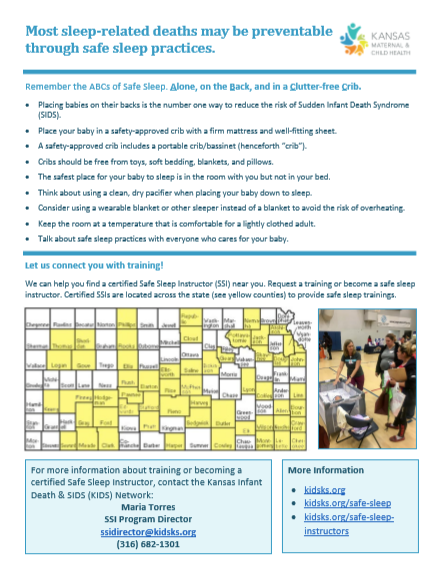 Safe Sleep Flyer (Data)