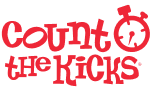 Count the Kicks
Effective Stillbirth Prevention Campaign Launches in Kansas
Video: Preventing Stillbirth in Kansas
About the App
Count the Kicks is a proven stillbirth prevention public health campaign that has the potential to save 60 babies every year in Kansas. Statistics show that 232 stillborn babies are born each year in Kansas.

The app allows expectant moms to monitor their baby's movement, record the history, set a daily reminder, count for single babies and twins. Read the amazing story of how the Count the Kicks app helped a Kansas City mother save her baby, Ava, this year.

Download your FREE Count the Kicks app
Our app makes it simple to track your baby's normal movement pattern with the touch of your finger. Its daily text feature will even remind you when it's time to start counting. If you notice a change in your baby's regular movement pattern, call your healthcare provider right away.
Deanna Cummings, Count the Kicks Kansas Ambassador, shares about how Count the Kicks helped to save her daughter Nevaeh in February of 2018.